Making days count 51
As forecast, yesterday was a bright sunny day, about 7C. When driving south, I often enjoy looking at the view shown in the following panorama. The freshly fallen snow on the mountain with the blue sky background encouraged me to get out of the car and take a few photos. Often there are horses grazing in the field which add a pastoral touch!

I drove along a few back roads rather than travel the main highway. When I have the time in good weather, it is a pleasurable way for me to travel. After living in a quiet community, Victoria seems very lively. In comparison, of course, it is, although nothing compared to a larger city such as Vancouver. There were many people out enjoying the day, some walking with dogs, others jogging, families in the park, etc.
Now, get yourself ready for a lovely walk in the park, or if you prefer you can travel this way ~ (check out the sweet little face peering at the top)
Spring is just beginning to show its colours. Soon there will be daffodils springing up all over the green dappled grass, but yesterday I saw only one! It is still February after all, but I am searching for every little sign of Spring. I saw one tree in blossom. There were a few clumps of snowdrops, but nothing like the beautiful spread of them here on Juliet's site.
There were many ducks quacking and splashing, seagulls soaring and squawking and crows cawing and following me around once they saw I had food. The duck near the Mallard in the bottom left section is an American Wigeon.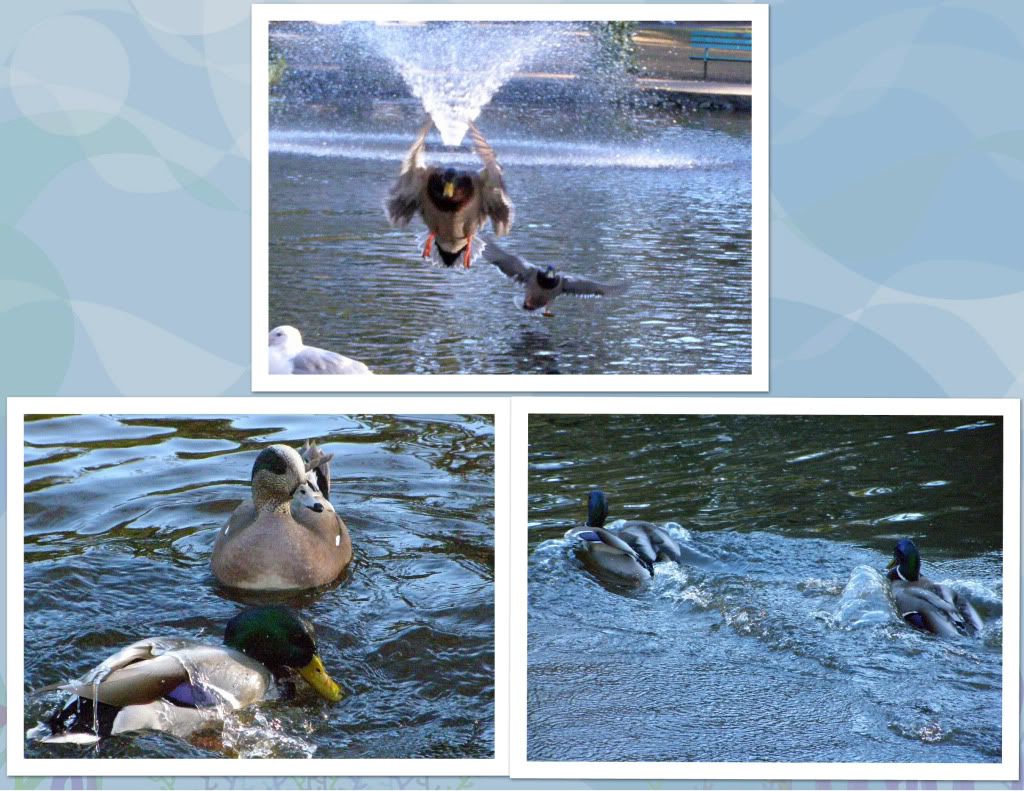 Ever since watching the program about crows being able to remember for a loooooong time, I am always especially kind to them ;)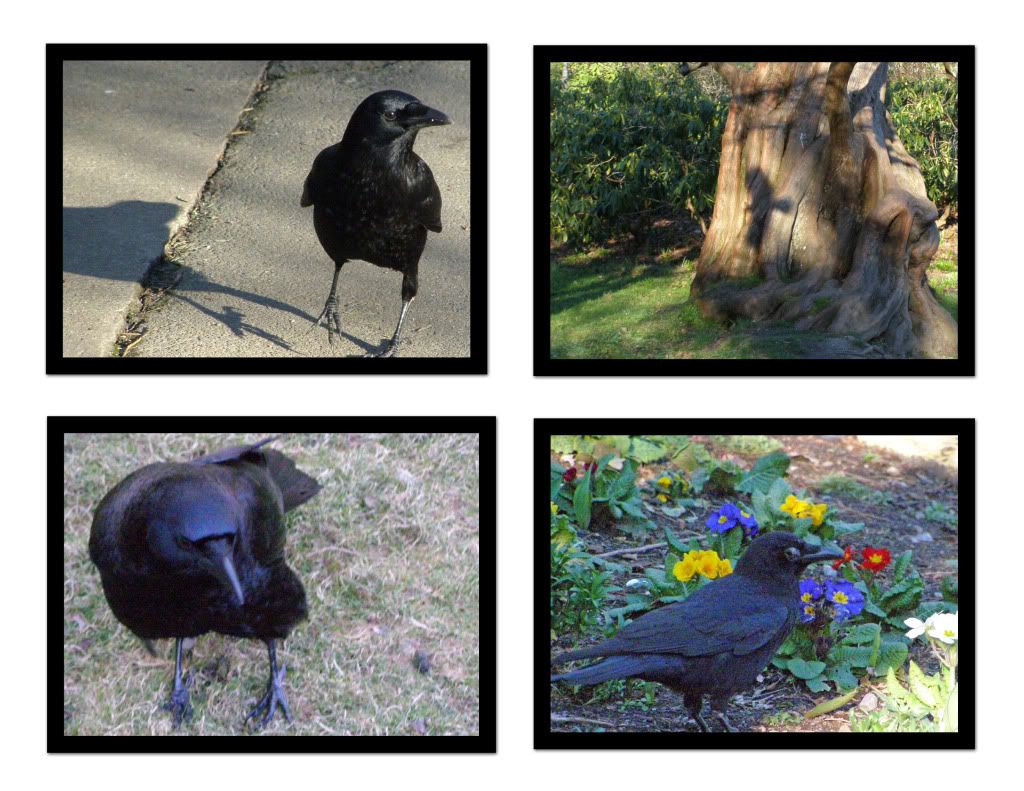 I brought oatmeal and sunflower seeds, but I must remember next time to bring some peanuts. This guy was playing peek-a-boo, much like Hilary's friend. Check out her priceless photo on her Lookin' up post.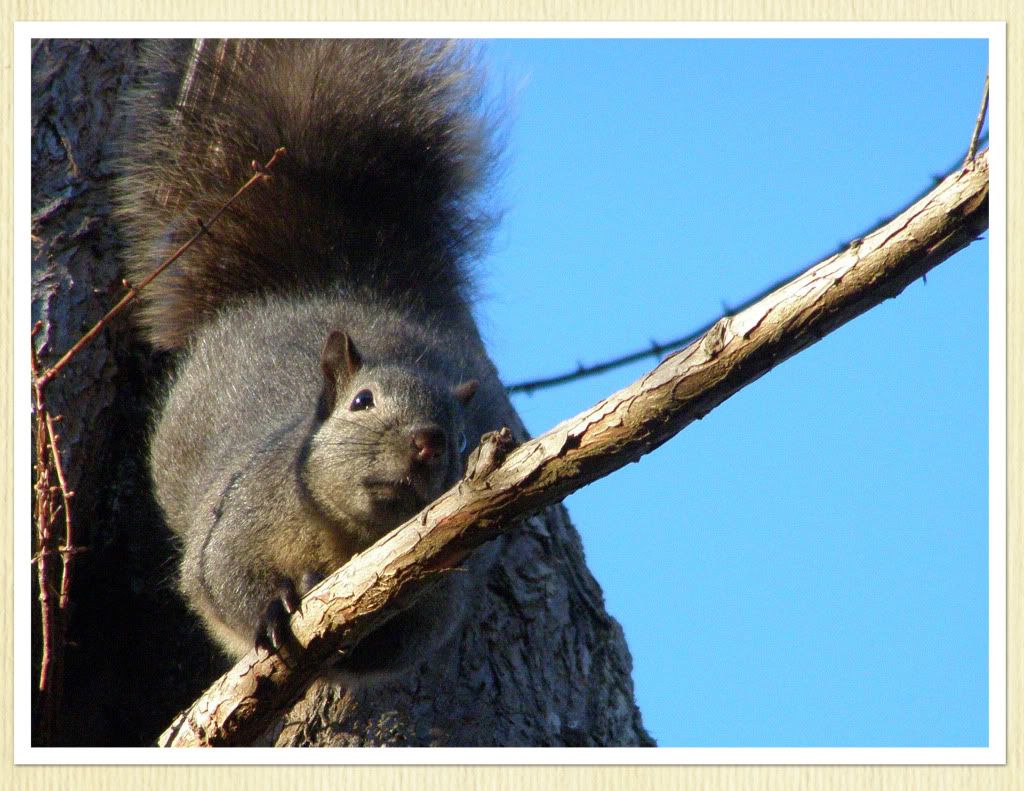 This is a vertical panorama of the tall, impressively gnarly 'squirrel tree'. He's up there somewhere!
And a sure sign of Spring, as a couple had their wedding photos taken on the stone bridge: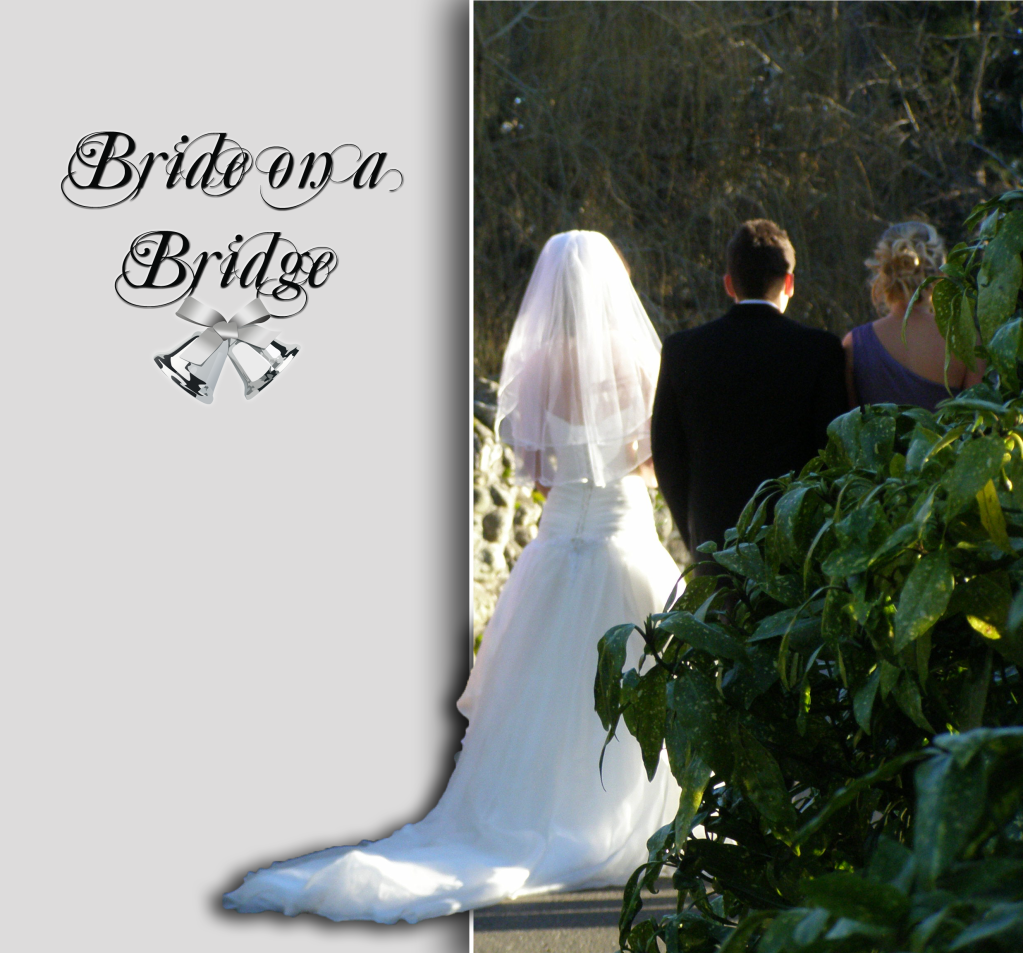 In a comment, Flighty was wondering 'whatever will happen next' in the escapades of Phoebe, Philbert, Elsie-Mae and Dobie. Well, it all seems to have turned out fairly well for everyone.
Philbert, in particular, is enjoying getting out of his suit and tie and wearing his tropical shorts; Phoebe is being catered to for once on the cruise ship; Elsie-Mae has started to whomp up a mess of vittles for her Imperial painter, and Dobie was doubly delighted to learn that Elsie-Mae's friend also had a pet of the female persuasion. Need I say more?

And they all lived happily ever after.