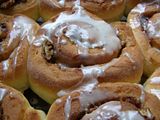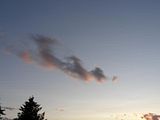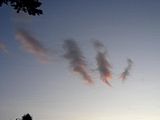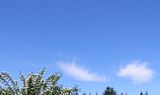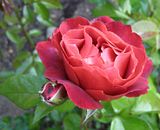 The boys were up for Father's Day and dropped in here for brunch ~ one of them brought me the fridge magnet that starts this post ~ it didn't take long for them to wolf down the cinnamon buns!
Lovely cloud formations lately ~ and the longest day provided a great opportunity for a walk to the beach and some sunset photos.
Do you see the hedgehog clouds?
A few roses, and honeysuckle. The dark red one is Hot Cocoa, the small pink ones are from the Fairy Rose, and the white ones are Iceberg which continues to have lots of blooms.
I am very busy this week as it's the last week of school for the students ~ not only that but I'm in the middle of going to 6 parties ~ some retirement, 3 different staff parties ~ my old school, my new school, and one where a friend is retiring. By Saturday I'll be partied out. My holidays don't start for a week or two because I have to make sure everything is completed for this year and ready for September.
BTW the cherry tree has been extremely popular this year ~ but today the ravens came! These guys were HUGE, and scared the living daylights out of me with their racket. I shooed them off! Chickadees and robins are OK, but crows and ravens can hang out somewhere else!! Usually the first cherry picking starts July 1 so I hope there are one or two left for us humans!
I've been baking as well, for the students at school who help me in the office, and for each of the parties. Tonight I made a carrot cake with cream cheese icing for tomorrow's do. Thursday it will be a chicken dish, and maybe a trifle for Friday's party.
I have been reading blogs, but haven't had time to respond as yet. Soon, though!
It's summer!!!!!!!!