For a day or two I have spotted this lovely butterfly fluttering by, and finally was able to get a photo of it. I'm wondering if it's a Western Tiger Swallowtail, as per this site:
Western Tiger Swallowtail Butterfly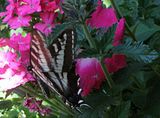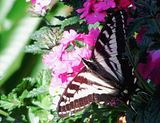 Tonight, I went down to the beach at sunset. There's definitely a holiday atmosphere now. I saw a couple of kayakers, and then noticed 'something' swimming in the water.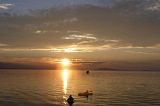 How lovely! It was a family of five. A dad and his two sons were snorkeling, while the mum and daughter were kayaking. They were having a great time…and then the dad said to the mum, "Come and let me kiss you with my salty moustache," and she ran away threatening him with the kayak paddle…haha.
Now just so you don't think everything is butterflies and beaches around here, there seems to have been a nibbler last night. I noticed a few leaves nibbled off the bottom of the cherry tree, and a nibble all along a low hanging grape vine which is very close to the gate to the rose garden. But...HA HA... my gate kept it out and there was no disturbance in the rose garden. :)