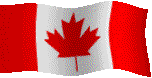 Happy Canada Day!
There were all sorts of celebrations going on today ~ but I stayed up so late because of the heat last night, I slept in today! By the time I got up (nope, not telling when), most of the activities were over. That's OK with me, because I was quite happy to be at home. My middle son and his girlfriend came for dinner... I bbq'd a whole salmon, and served it with new potatoes, corn on the cob, carrots, roast sweet potatoes, a caesar salad and a baquette. For desert, we sliced up a fresh pineapple...it is was so delicious.
This particular son put in an underground sprinkler system here in 1994. Some of the sprinkler heads need replaced again, and I need a drip system set up in the "rose garden" so he gave me a list of items I will get tomorrow. He also went up a big hemlock tree and cut off a broken branch for me. Hopefully he'll be able to come back before long and make sure I've got the sprinkler system set up properly!
It was a gorgeous day weather wise, with a bit of a sea breeze which was very welcome!