This afternoon and evening, I've been in the pits! Cherry pits, that is. While I was pitting on the deck, I wore thin latex gloves so that if the phone rang, or more importantly, a photographic opportunity arose, I could whip off the gloves and use my clean hands. At one point my gloves became so sticky that the little "pitter machine" was stuck to them and I couldn't put it down. Anyway....
Here's how it began...
After a few hours sitting and pitting I was done with Step 1. Here's one batch of cherries ready to go!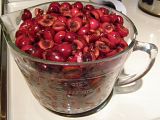 Time is moving along, and two pies are ready for the oven...
Finally, the baking is done, and it is just after 10 p.m. (as per the oven clock)
At which point, son comes downstairs saying that he has to eat some of whatever smells so good!
Of course, warm cherry pie can't be ignored, nor should it be. Whoops, I forgot to take a picture before the fork got into action...
Delicious, even if I do say so myself!