in my back garden!
You've met the cat that frequents my yard before, but doesn't he seem like he's just getting a little bit too comfortable, with his paws crossed? Just after this he moved and sat looking up at the hummingbird tree! I've already rescued one baby robin from his pounce!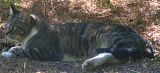 and look what I found hiding inside the umbrella on the deck when I was about to put it up ~ a moth! At least it wasn't Frog hiding there!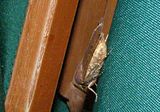 Here's a bit of colour on the deck and in the rose garden: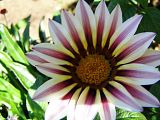 Blue Heliotrope, which I just love ~ wonderful fragrance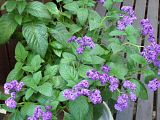 First bloom on the Wenlock Rose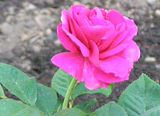 I think that this is a young nuthatch in the cherry tree: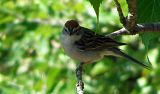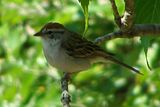 This next photo is definitely not of a nuthatch in the cherry tree! I took a "shot in the dark" and on close inspection spied this little bandit enjoying a cherry feast!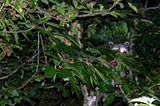 Moving away from the flora and fauna for a minute ~ The first batch of t-shirts I washed and hung out ~ I offered to bring them home from school after the students wore them at track and field! I have now had enough of folding t-shirts, but at least they're all done! The weather was perfect for drying, with a lovely breeze.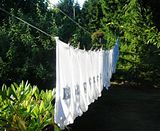 Back to nature ~ here's a sight that caught my eye while I was on the deck ~a bald eagle circling a little bit in the distance. See his white head and tail caught in the sunlight?