Off I went to the beach this morning as the tide was far out! Sorry, the video seems to have picked up quite a bit of background noise of breeze and waves, but hopefully you can still hear me :)
For those who aren't able to view the videos, here's a couple of stills :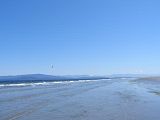 I thoroughly enjoyed the wade in the sea, it was absolutely perfect!
Later on, I noticed my magical swallowtail butterfly back at her favorite verbena and petunia box ~
Then, lo and behold, my son said "Look at the dragonfly..."
I was quite delighted that I was able to get a few close-up photos, especially since I'd been admiring the close-ups on London's Daily Photos!
...oh, and I picked some more cherries...