It seems that my frog is a Pacific Treefrog:

They are small frogs, up to 5 centimetres long, and may be any colour from pale grey or tan to bronze or bright emerald green. Pacific Treefrogs have a conspicuous dark "mask" or stripe extending from the nostrils through the eye as far as the shoulder...City dwellers on the coast are often pleasantly surprised to find that a Pacific Treefrog has made itself at home in their garden or even in plant pots on a balcony. The sticky pads on their toes allow these frogs to climb about on plants with great agility, though they usually stay fairly close to the ground.
To read more, check out this site:
Frogwatch Pacific Treefrog
At the staff party last Friday night, we had an uninvited guest: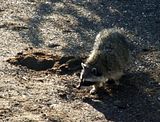 Raccoons are quite prevalent and can make a nasty mess of gardens and lawns while searching out tasty grubs!
Raccoons