As some of you may remember, last year I met
Frog Newton
on
Flighty's blog
and had fun making up a rhyming story under the heading of "Frog Ponderings". The series follows Frog and his friends on Flighty's allotment Plot 124. This year I haven't seen Frog Newton around, and only one sighting of my little frog that Flighty named Canuck. Hopefully the frogs are happily hopping around enjoying themselves.
This summer I have become quite fascinated with hedgehogs, thanks to
John's blog, Midmarsh Jottings
. Recently he procured a hedgehog house in hopes of a family of hedgehogs eventually setting up home. He is also rigging it up with a camera, which helps us all learn more about animal behaviour. Henry and Honey hedgehog are regular visitors to his back garden where they enjoy lovely delicacies, such as mealworms and crushed peanuts. If you read through his blog you'll also learn about the youngster, Hope.
After coming inside today, I decided to spend some time on my computer and before long I found a couple of hedgehog gifs online and ended up creating this, just for fun.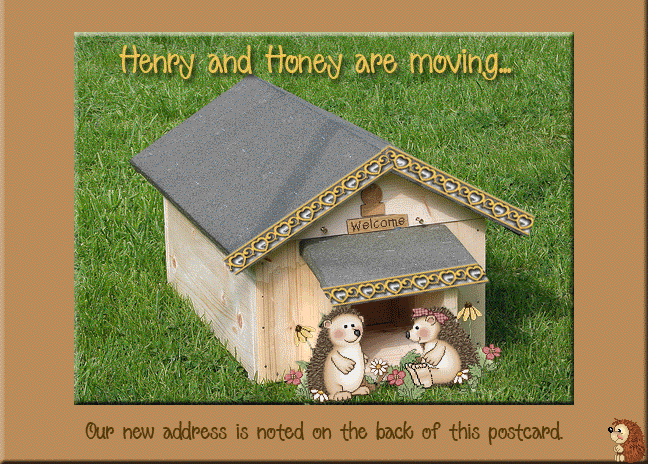 'Hope' is the little hedgehog in the corner, clapping her hands. As I said, I found these gifs on the web, and just incorporated them with a slightly embellished photo of John's hedgehog
des res
. (I had to look up
des res
, as it was not a familiar term to me, and it makes perfect sense because it means
des
irable
res
idence).