After reading many blogs from the UK, I am reminded of our winter last year! We were covered in feet of snow and I even bought a new pair of boots and snow shovel for this year. However, there's nary a flake to be seen!
Flighty has shared snowy sights of his Allotment plot and included links to some other wonderful wintry blogs in his post. Nic shows us on his terrific photo site a link to an air shot of the UK blanketed in snow!
I would also like to add a few more sites to indicate how winter has enveloped the whole country and beyond. Uphilldowndale's site is amazing! She has a special way with photos and takes many opportunities to catch some breathtaking shots. Don't just stop at the one post that I've linked to ~ take a wander through her others posts ~ and meet Spud, her lively 'snow' dog!
Yolanda's Bliss from the Netherlands is another blog that I love to read. It's always entertaining and is often embellished with delicious sights and sounds! Meet Tara on her site, another dog who relishes the snow!
Back in England, Midmarsh John is inundated with clientele at his Birdy Bistro and is concerned about the possibility of running out of bird seed if this wintry weather persists! Meet his dog Bobby on his site!
Lovely blogs ~ with lovely dogs.
Hmmm, blogs, dogs...rhyme time.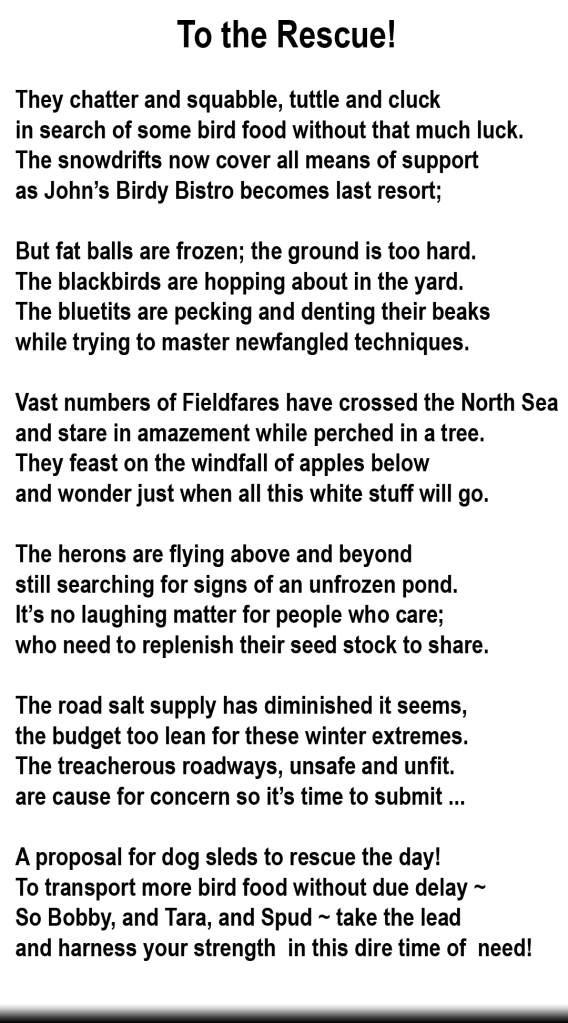 Thanks to Midmarsh John for giving me the OK to post this little Photoshopped picture I did of a "Bob(by)-sled".