My life has become busier than usual, thanks to my choice of applying for a new job position. After eleven years in the same place, I will be moving in January to a bigger school, closer to home. In the next few weeks I will be packing up, leaving things ready for the next person, and then heading off to new beginnings. Somewhere in there, Christmas will be happening as well! Needless to say, blogging has dwindled to a halt!
However I'd like to share a few photos I've managed to capture in the last few days. The first is my new header which is a sunrise I saw on my way to work the other morning.
Each school in our district has an RCMP (Royal Canadian Mounted Police) liaison who works with the children through various programs. One of the programs involves discussions about drugs, alcohol etc. and decision making. We also acknowledge children who "solve problems in peaceful ways". Today, at the award ceremony, two RCMP came in their red serge and shiny boots ~ always an impressive sight. One of the fellows seemed to fill a doorway!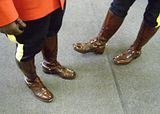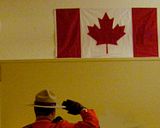 These other photos were taken on my way home today after a long day at work. I took the pink feathered sky photo from our road. The Full Cold Moon was very visible in the crisp and clear skies over the ocean. Often there is an eagle perched on the top of the tree ~ but unfortunately not there in this shot.