Ok, where were all my blogging helpers and their snow shovels???
On Wednesday (yesterday), the snow began in earnest (and here, too). My goodness, it was like driving through mountains and ruts of icing sugar. Eventually I made it home from work after making sure the children all got home safely from school. There was at least a 6 inch layer of snow in my driveway, but by driving forward and backward, I finally made it to the garage door, and slithered in. The snow continued all night, and by morning there was at least 24 inches on the back deck!
First I'll show today's photos of the juncos ~ the previous dish of bird food is about 12 inches under, so I had to put another one out...and then only one bird would eat at a time, so I added another dish which seemed to solve the problem.
If you click on the little fellow below, you'll see snowflakes around his beak. Isn't that cute?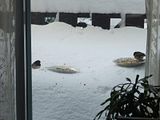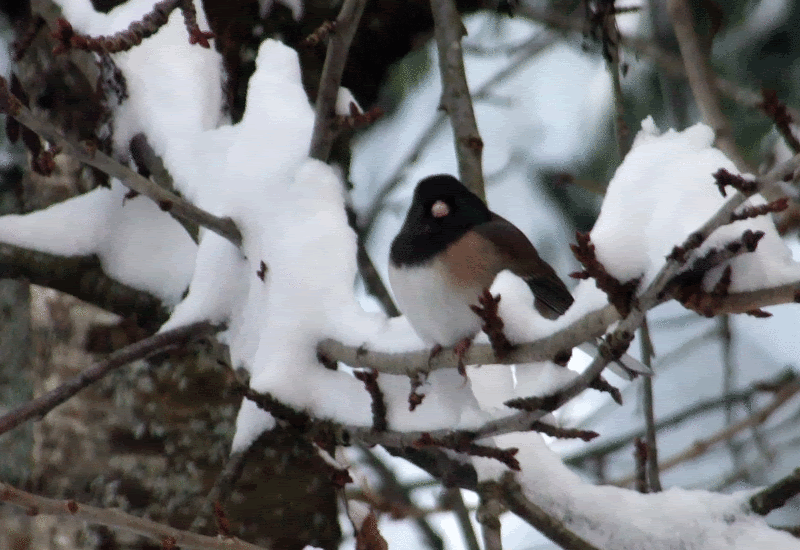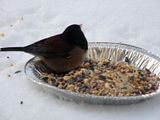 After taking numerous photos of views from various doorways and windows of the house, I put on my snow pants, my winter jacket, boots, and gloves to do the inevitable. Dig. It was 10:00 a.m. My son was unable to get home last night because of the snow and roads, so it was all up to me! While I was out there, 5 white swans flew overhead! They were beautiful to see! No photo though.
Back door:
Birdhouse?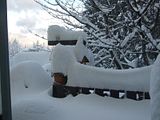 Front Door: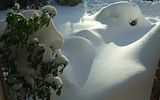 Front window:
White wonderland trees, some views from the upstairs window and a few from the front door ~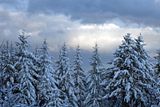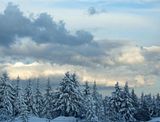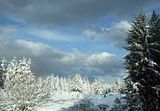 Driveway to clear: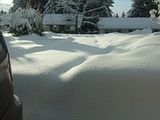 Four hours later: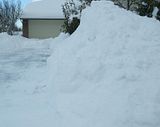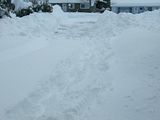 Still more to go tomorrow, it shouldn't take too long I hope ~
At first the snow was quite powdery and fairly easy to lift, but as the sun came out it became stickier and hung on to the blade of the shovel. After 4 hours, that was it for the day! I felt good, though although my left arm in particular knows it has been busy heaving!
Time to relax ~ orchid still blooming from early November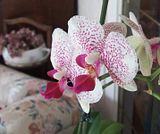 Winter jasmine against the snow ~
Moonlight ~
Forecast for sun, a few more flurries and continued below zero weather. I can't drive out of the garage yet, but at least my son was able to drive in today. I'm happy to stay home for now ~ and hopefully decorate the tree tomorrow.