Edited to add: Another
storm warning
has been issued, so I've decided to stay home and cook a big pot of chicken something or other in case of power outage.
(Caps are from the site)
A PACIFIC FRONTAL SYSTEM APPROACHING THE BRITISH COLUMBIA COAST WILL COLLIDE WITH ENTRENCHED ARCTIC AIR TO PRODUCE ANOTHER WINTER STORM. THE STORM IS FORECAST TO REACH VANCOUVER ISLAND THIS AFTERNOON THEN MOVE TO THE SUNSHINE COAST AND THE LOWER MAINLAND TONIGHT. SNOWFALLS OF 10 TO 20 CENTIMETRES OR MORE ARE FORECAST BUT WILL VARY DRAMATICALLY ACROSS THE SOUTH COAST. SUBTLE CHANGES IN WIND DIRECTION CAN RESULT IN MUCH HEAVIER SNOW. AREAS SUBJECT TO THE STRONGEST ONSHORE SOUTHEASTERLY AND EASTERLY WINDS SUCH AS THE EAST COAST OF VANCOUVER ISLAND ARE AT GREATEST RISK OF HEAVY SNOW...
When I opened the front door to start digging out the walkway, I noticed I'd had an early visit from Santy Claws!
Today I sprayed some vegetable oil on my snow shovel before starting and I think it helped the snow slither off easier. Here's the cleared path ~
I had the rest of the driveway to clear so that I could get my car out of the garage if needed. It took me 1 1/2 hours today to do the walkway and driveway, so all told that's 5 1/2 hours of digging in two days ~ and I did it all by myself :) My camera battery died before I had time to take a photo but I remembered tonight ~ there are icy patches but at least it's mostly cleared.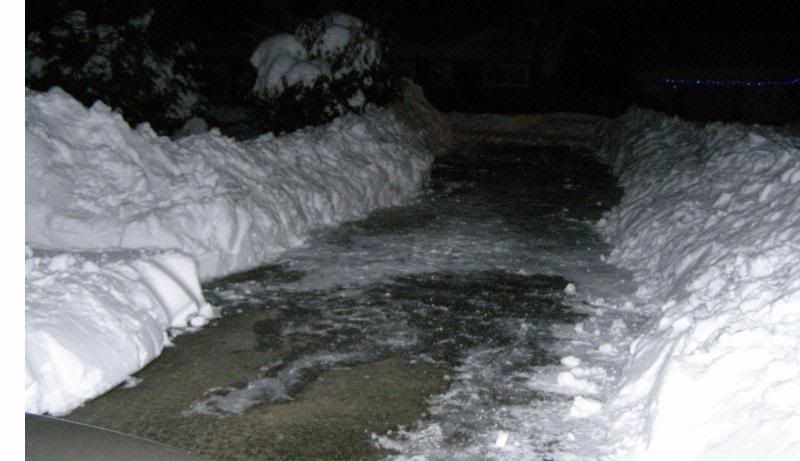 I noticed the mountains had their fair share ~
Later on I put the lights and decorations on the tree. The coloring in the photo is a bit odd because I didn't want to use the flash. I'll try and get a better picture that shows how it really looks. In the meantime:
and isn't that Frog Newton imitating an ornament ~ I tell you, that frog does not like to be left out of anything!!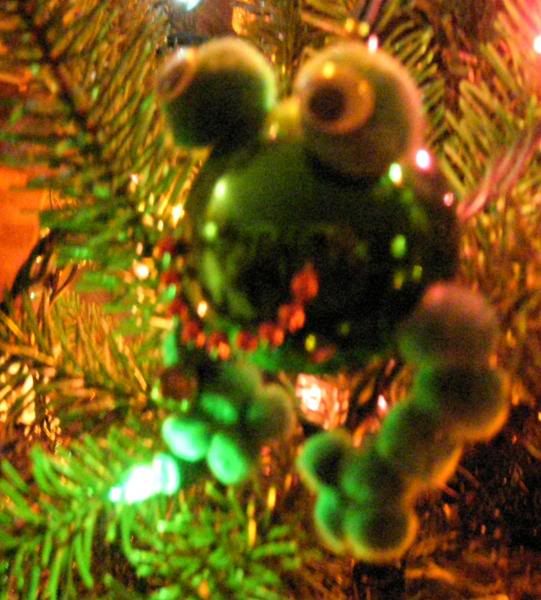 More snow forecast for Sunday. Nobody needs to be dreaming of a White Christmas this year!