It's not that I've been idle, not a chance,
although retirement's hardly song and dance!
Each time I start a project, things get worse,
so time to try and put it all to verse…
I took a desk apart to use the drawers
inside a cupboard opened by two doors.
Because the width was such a perfect fit,
I only had to fiddle just a bit,
or so I thought, but soon I grabbed my drill,
the jigsaw and some screws. I worked until
it came together. Now it's done at last!
I spent two days on something I thought fast.
To tidy all the mess will take a while.
A stack of bits and bobs has formed a pile,
which waits for me tomorrow to diminish.
I read two novels through from start to finish
in two days straight – because the weather's bleak -
Not good for taking photographs all week.
On Sunday for a teeny little minute,
the sun appeared and I sat out, and in it!
Some barking basking creatures joined right in;
their pleasure resonating – what a din!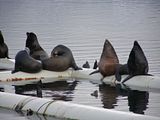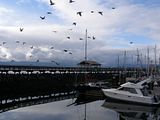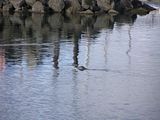 I've fooled around with brushes – Photoshop –
and now that I've begun it's hard to stop.
As you can see, the days have simply fled,
and now it's goodnight time from sleepyhead. - Whoops!