The piece of cheese which seemed to have moved was GONE, the next time I looked! Step 3: Set the mousetrap with cheese.
Flighty suggested it might be "mice" rather than a mouse, but of course he was just kidding, weren't you Flighty? Because if there's more than one, I'm moving out!
Nikki was wondering if I'd borrowed the neighbours cat. Not yet, but it may be an option, although I'm not sure if it would want to come in, as I've often shooed it away from the bird feeders.

It the mouse had just walked the plank to 'the peanut butter kerplunk in a bucket', it could have been running free, by now.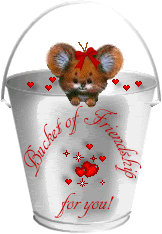 But it didn't, so now ....



We can only wait and see what next will transpire in the continuing saga of "The One and Only Mouse" in the house.