Quite often, now that the summer weather has decided to appear periodically, I'll be out on the deck...you can see my lounge in the distance...
The other afternoon I was lounging on the deck, being mesmerized by the clouds overhead. I came out again later to take an evening photo...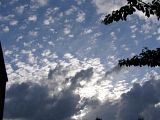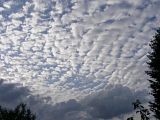 Yesterday, my son and I decided to go to our little airport restaurant for supper ~ only one small plane took off during our meal...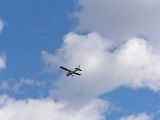 Here's dessert...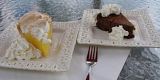 When I set off this morning for a drive, the first animal I saw was a deer that had been spooked by a barking dog. The deer leaped across the road much to the surprise of a bicyclist! I stopped at the side of the highway with my flashers on to warn other motorists, in case the deer darted back again. I took some photos while waiting until the doe safely headed into the woods.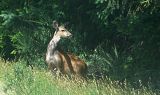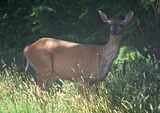 When I found out that the plant nursery I was heading for was closed for business, I went in search of another and came across a couple of animals inside:
On my way back to my car, this caught my eye... a shiny T-bird in the parking lot, which I took a fancy to...
When I came home, I took a planter out of a planter box to add some new plants and lo and behold, something "fell" out and landed on the railing...OMG!! My very own Frog! I wonder how long he has been living here...could he be the same frog on my previous post "Pane of Separation" on April 13? Is he another ponderer?? This is ribbeting news!!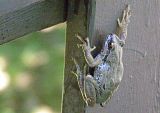 After all that excitement, I lounged and read, taking a photo of this busy bee who was still working away...
I could hear the baby nuthatches in the cherry tree above my head, but I couldn't catch them in my camera lens...speaking of CATching up, I hope the neighbour's cat isn't spying on my little birds....