It was a gorgeous day today, much too pleasant to be working indoors! The minute I arrived home, I was out in the fresh air having a look around the garden ~ checking on the very small rose buds, the peas and sweet peas ~ and then noticed some action around the nuthatch establishment! The nesting box is at the far end of the garden and on the top of the clothesline, nearly lost in the tree branches this year. I sat down on a garden chair with my camera, and looked way up to see if I could catch a shot or two.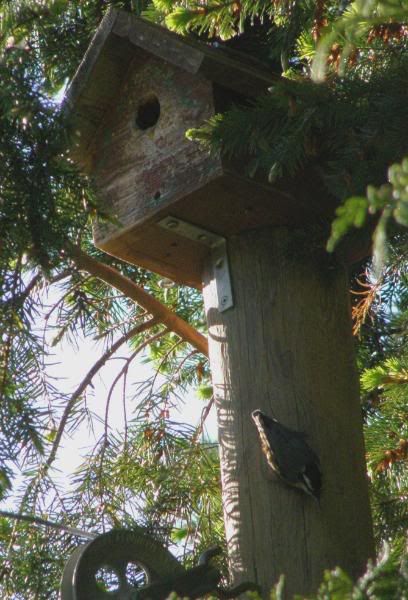 Here's a little video ~ it's a bit shaky because I had it on zoom and my camera was handheld...would have been much steadier if I had used a tripod. The "neep neep" you can hear is the nuthatch making its usual monotone call.
After bird watching, I headed back to the deck where I spotted a lovely big bee besotted by a white pansy.
A slideshow ~
and a video ~
Sunny warm weather is forecast through until Monday, so roll on weekend!
EDIT to ADD ~
UK Nuthatch
~ info and click on the Listen - Play button on the site to hear how different the UK bird sounds to my "neep neep"!