After spending Saturday around the house catching up on chores, today I headed down island to a seaside town to check out condos among other things. With
Liv
moving to a new location, I was inspired to look at alternative housing and lifestyles. Although I have recently changed jobs, it is proving to be much more intense than my previous one, and doesn't give me much time to add my spark of creativity which is important to me. I know it is early on in this particular job and things are becoming more familiar, but I have been in the business long enough to know that if anything, it will get busier ~ especially just before summer and in the fall when starting up again. I think it's healthy and sensible to be open to new ideas and I enjoyed my trip today.
It didn't snow and it didn't rain, but it didn't "sun" much either, so the following photos are not vivid at all.
Before I left home, I noticed Mr. Skulky neighbourhood cat checking out the back and the front before loping off. He checked all the spots where birds hang about and then left! He has a bit of "I mean business" look in those eyes, don't you think?
After a two hour drive, I arrived at my destination and spotted some preening black cormorants adorning the pilings. It was difficult to get a photo of them with their heads up!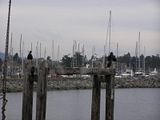 These gulls were much more co-operative!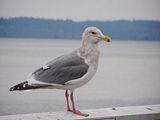 Although this particular Condo was beyond my "lifestyle change", the scenery fit the bill very nicely!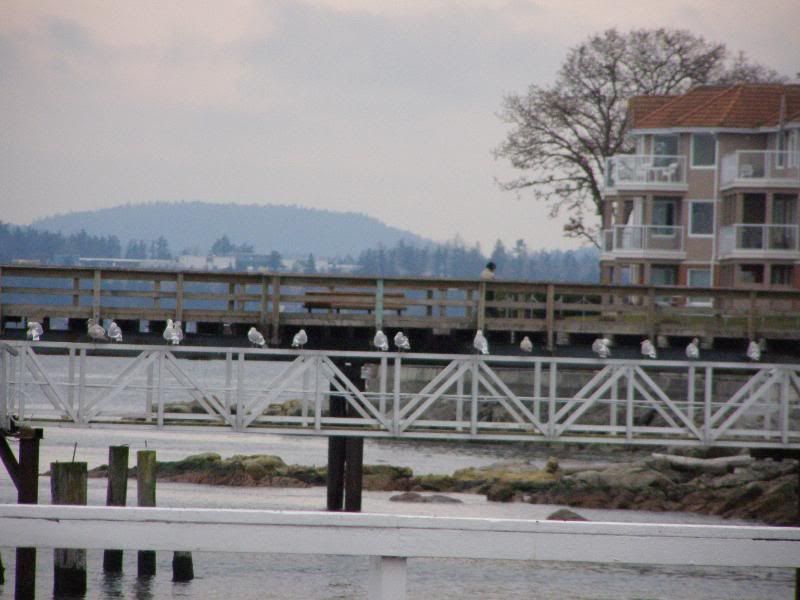 At the end of the day my spirits were buoyed and the setting sun lent lightness to the distant clouds.