Well, that was an interesting weekend! On Saturday I noticed there was some lint build-up on the floor at the back of my clothes dryer. I donned my knee pads, and descended into the crawl space, with a light to make sure that the ducting was in place. All appeared OK. Back up I came, then I gently eased the dryer away from the wall and realized that the connection needed to be more secure. I googled for more information ~ and then off to the hardware store. The first store didn't have what I was looking for, so on to the next, where I had more success, including being introduced to "foil tape", which is the proper duct tape for this type of job. Home I came, to attempt to connect the dryer to the exhaust ducting through the hole in the floor. However when I was fiddling around with the original 90 degree elbow, the thing broke apart, which is where the problem may have been! Stores were closed by this time, so on Sunday, back to the hardware store for a new elbow, and two clamps. After much fiddling about with my arms squished behind the dryer, trying to insert the various parts and screw the clamps in place, I managed to complete the project. I don't know how many hours I spent at this, but if I was paying myself, I'd be rich! No photos, because I was too busy concentrating on what I was doing!
On my way to the first hardware store, I took a couple of photos of the daffodils near the beach.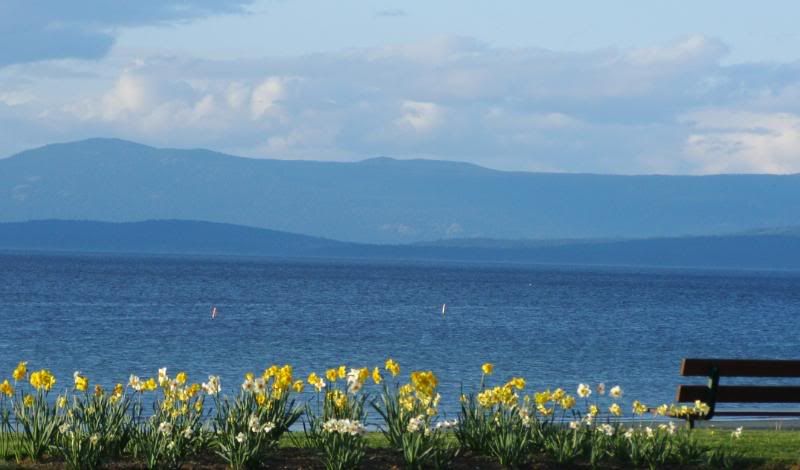 Today, on my way back from the hardware store, I took a moment to drop into the woodland garden where they had a plant sale and bought two more roses…they're not very big, but hopefully will come to like my small 'rose garden'. One is Aloha and the other is Chrysler Imperial. No photos, of these either, because I was in a hurry!
However I did notice a bright skunk cabbage on my walk through the woodland garden to the nursery where the plant sale was being held. Here's an
article about skunk cabbage
that I found extremely interesting ~ the author thinks a better name would be 'swamp lantern' ~ which I think suits it much better!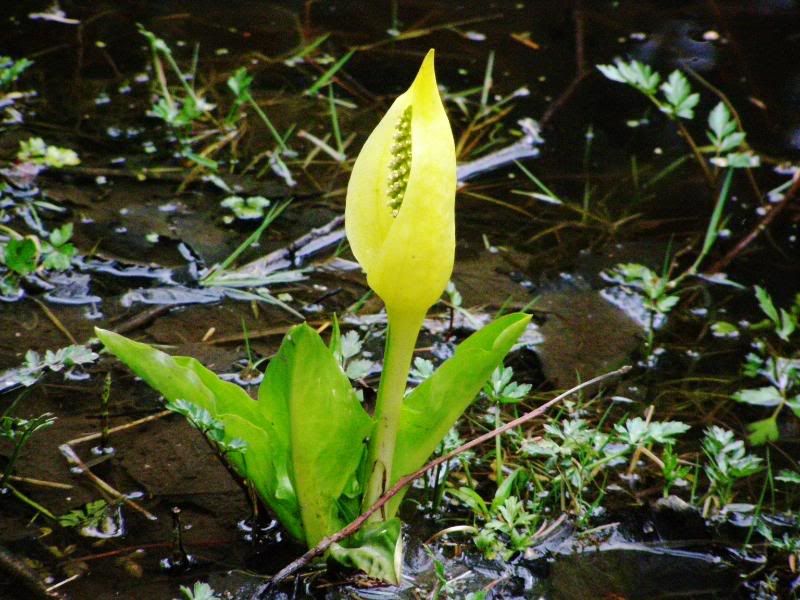 Guess what? The cherry tree is starting to blossom ~ although it wasn't a sunny day, it was pleasantly warm, which seemed to spur it on!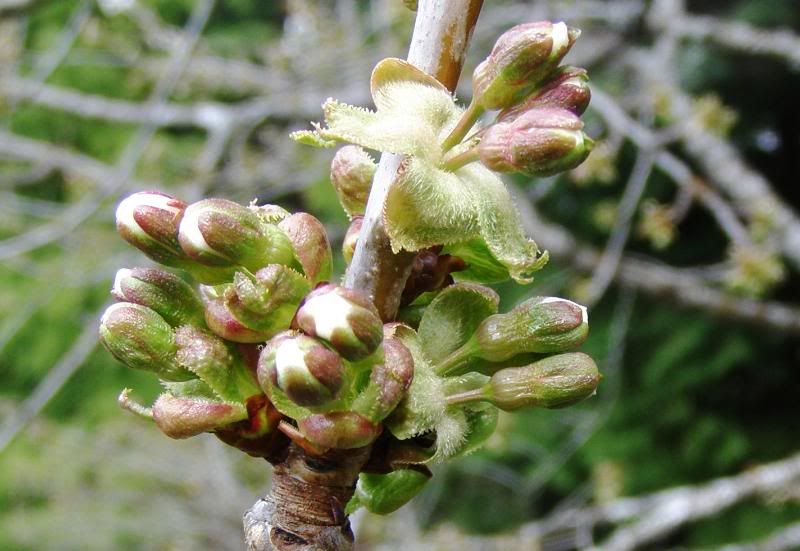 While I was checking out the tree, I noticed that there was a party going on in one of the hummingbird spouts (the little cage had fallen off). I'm not that keen on looking at bugs up close, especially when it's bedtime, but thought it was a good shot of them.
Sweet dreams ;)