I just don't know where the time goes! The last part of May has been washed away in the rains, I think. Luckily, the days are becoming brighter again. The pink dogwood has dropped her lovely pink petals all over the front yard; the peony has blossomed and after a brief period, the petals were washed and blown off! However, the honeysuckle is now wafting its fragrance, and is surrounded by lush foliage.
I have also spent some time looking through photos as I had to come up with some for the district retirement celebration and dinner for all retirees held last Thursday. Along with the photos, I had to write my 'farewell' speech accounting some touching moments and highlights. Now that that's over with, there are only two more events on the horizon ~ one celebration from the schools that I worked at, but that gathering is more informal and will be held at the beach! The other one is a year-end get together where three of us will be honoured. If I don't know that I've retired after all that, it will not be for want of celebrations!
Yesterday, my son and I went on an adventure, mainly because the blue sky was beckoning at last. We saw an eagle having a crab snackwich on the beach ~
A crow thought it would see if there was any hope of a tidbit, but after one look at old eagle eye, decided to take the hint, and flew off...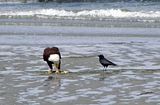 We took a look at our backroad maps and off we went. It was a lovely drive ~ here are some views as we drove along my new favorite road!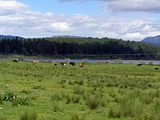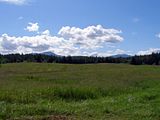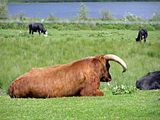 We ended up at a large lake with houseboats along the edge ~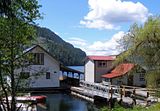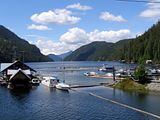 This seems to be houseboat float or platform:
`
We noticed a waterfall high up on the mountain ~ apparently the highest in Canada! See link to
Della Falls
.
I thought I saw a couple of ducks and looked to see if there were any youngsters...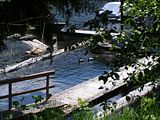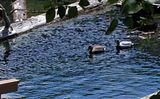 On closer inspection I saw they were decoys! Who's the dummy here, I thought ;)
On our way home, we stopped by another lake where some kids were fishing ~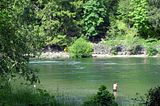 It was just uplifting to see some blue sky and the bright green leaves on the trees!
I have also been making frequent trips to the library replenishing my stock of books for those rainy days and nights! Hopefully now I can spend more time in the garden ~ the roses have buds, the potatoes have been hilled but are now popping up like crazy, the sweet peas and snap peas are looking lush...and we're moving right into summer.