Yesterday I was making tracks, and today keeping track ~ one more day off! But I wasn't the only one making tracks ~ my son noticed an interesting set of tracks when he looked out of the upstairs window. There were recognizable tracks, such as those left by a neighbourhood cat; there was a line left from melting snow that had dripped off the washing line, and then there were the other tracks! The imprints are quite far apart and the only thing we can think of is that they were made by one leaping deer ~ What else could they be ~ any thoughts??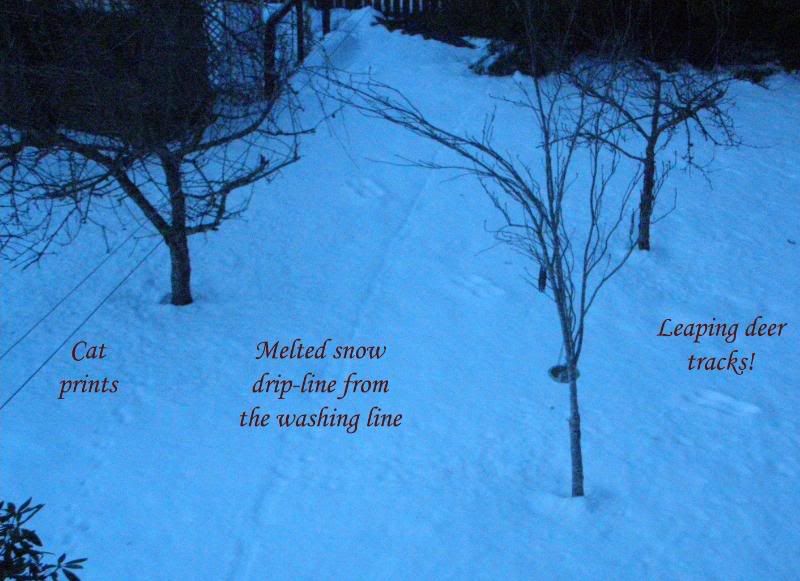 After yesterday's busy work day, I did not do much of anything today, although for some reason I fancied a plum pudding! It still looks like Christmas, so why not? Before long the kitchen counters were filled with various fruits and nuts, the food processor and mixer were busy, and after a few hours of steaming, the smell of spices filled the air! Yum.
The sun did come out yesterday, but because I was indoors (working ~ have I mentioned that before!!!) I didn't reap the benefits of a lovely outdoor day. No more snow fell today, but the temperature hovered around the freezing mark, so nothing melted either! The snow is now ice crispy, and if you kick it (to get a clump out of the way when you are parked at the workplace) it hurts your toe!! Ouch!
Tomorrow I will try to investigate more thoroughly the mysterious tracks ~ which reminds me ~ I wrote a poem about following tracks in the snow once, wondering if the trail would grow cold.... ;)