I woke up this first day of 2009, looked out of the window, and said..."You've got to be kidding!" because it was.............................. snowing!
I quickly turned on the weather channel and realized there was another weather alert! I felt like crawling back under the covers, but I was invited to an annual January 1 lunch. I phoned another couple who where going, and they said they'd be happy to pick me up in their 4 wheel drive which they did. Yay! So I had a lovely luncheon, getting together with a group of people (like a second family) who I hadn't seen for awhile ~ ranging in age from 3 to 87!
The storm didn't amount to much and the sun is supposed to shine tomorrow. Did everyone hear me? Sun!!! However, I have to go into work tomorrow because it's my last chance to get the office in tip top shape, unless I want to spend the weekend in there. No thank you :)
I spotted a little bird outside on my deck during the ongoing snowstorms ~ and I think I know exactly how he felt ;)
As
Flighty
informed us, Plot 124 enjoyed a Hoppy New Year, too, but while London was sleeping, this is how it actually happened ~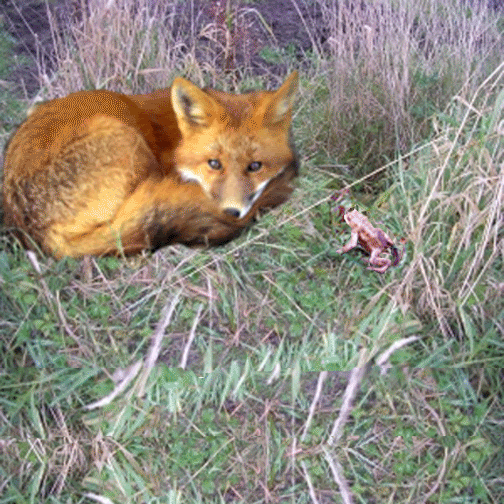 One never knows what goes on at the allotment plot when no one is there!
Here's to a splendid 2009!