Elle and Fairy roses from the rose garden; Gerberas from an appreciative staff member; a sunny yellow face from the front garden~

all thumbnails are clickable for larger photos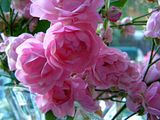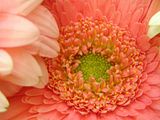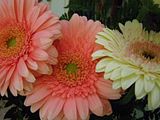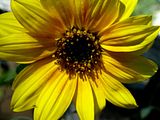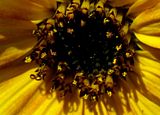 On Thursday, Tour de Rock visited our school for the seventh year in a row, just before heading on the next leg of their journey south. Here are some of them getting ready to ride into our gym to a throng of awaiting children to cheer them on.


The Canadian Cancer Society Cops for Cancer Tour de Rock raises money for pediatric cancer research and programs for children with a history of cancer. The 24 member Tour de Rock cycles from one end of Vancouver Island to the other, over 15 days, covering 1,000 kilometres. There is a youtube video of Tour de Rock if you are interested.
As you may know by now, on Fridays, a few friends/colleagues and I spend some time relaxing after the work week. After having worked indoors when the weather has been so beautiful outdoors, it is heavenly to sit on the deck and enjoy the surroundings.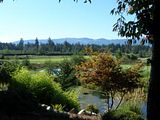 I have been waiting for one of the red darters to land like the ones I saw last fall, and on Friday I was very fortunate!
I first spotted what I think is a caterpillar known as Yellow Bear, (Virginian Tiger Moth)--Arctiinae/Arctiini/Spilosoma virginica or

Hairy, for short.
Yellow Bear caterpillars are densely coated with yellow or orange (occasionally even red or black) hairs and grow to approx 2 inches. Feeds on many plants including birch, maple, cabbage and c
orn and found throughout.
When Hairy (Caterpillar) met Sally (Red Darter) ~
Sally noticed Hairy's golden hair glistening in the sunlight ~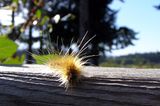 Hairy, who'd always had a thing for red heads, noticed Sally's wings and her slender body sparkling in the sunlight ...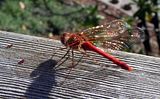 Sally waited for Hairy to come and meet her ~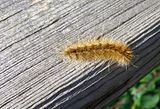 Sally waited ...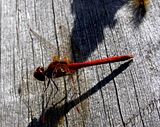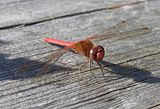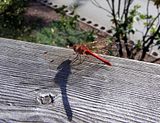 Finally, she thought, "What the heck!" and flew to meet him ..
.
However, when Sally arrived, not appearing too eager, Hairy paid no mind. Sally was downcast!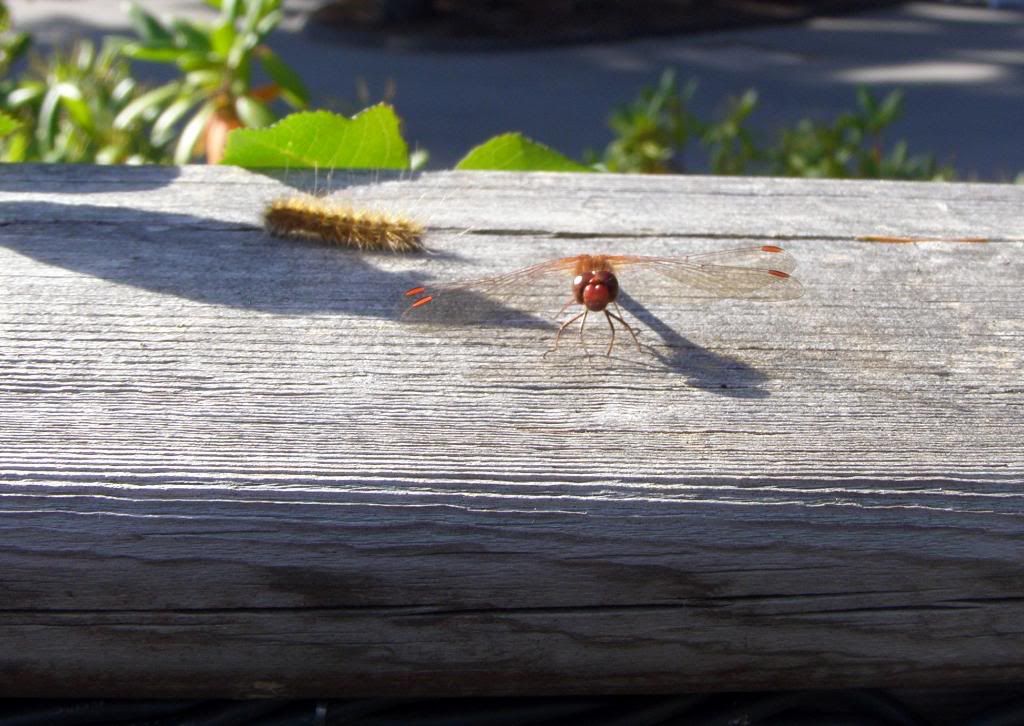 How was she to know that Hairy was thinking, "It is so nice when you can sit with someone and not have to talk."
Leaving you with a sunset on the other side of the mountain ~