After walking through the garden, I headed to the beach.

The tide was out farther than ever, and after hopping over and through a bit of water, I realized I could walk along, what appeared to be, miles and miles of sand.

I could see much bird activity in the distance at the water's edge so I headed in that direction.

I noticed a beautiful still pool and as I neared it, I reflected on mirrored thoughts.




As I got closer, those tiny pearls of wisdom returned, releasing surface tension by adding their thoughts to the pool.
Just then the wind picked up, and blew across the pool rippling the surface and causing me to turn around and look at the sky.
Wow! I quickly put up and fastened my waterproof hood and tucked my camera into my jacket.

I walked with my back to the wind towards the water's edge, marveling at the stormy skies.

On and on I walked, watching the storm move past and across to the mainland.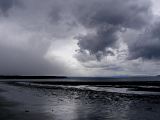 Here's a few photos in a slideshow format of the storm moving along until I reached the end of the open sand.



Another amazing spectacle were the "gulls galore along the shore". Here's a slideshow to give you an idea.
And here is a little movie entitled "Don't Bother the Crow" which will give you a sense of being right in the midst of it all.
We can't leave the day with that racket, so here's just a touch of a rainbow, the return of blue skies and the snow on the mountains as I headed home.