*Edit has been added.
I have spotted a new visitor in the back garden recently. I don't know if you can spot him, but he was attempting to feed from the suet block on the apple tree. By the time I had the camera aimed at him, he had jumped onto the cherry tree. Hard to see him, but he's there... Spot the Squiggle. Sorry the photos are not very clear.
*Edit to add: After Flighty's comment saying he had washed his glasses twice and still couldn't see my visitor (which is a grey-black squirrel) I have attempted to point him out (not Flighty, the squirrel). As mentioned, somehow my camera had put itself (nothing to do with me ;)) on a weird setting and my photos were all out of focus. So perhaps you don't need new glasses after all, Flighty. Now can you see it?

(Eek, it looks like my cherry tree is wearing glasses and peering in the window)
Meanwhile, at the front, there have been squawkings of Jays, the presence of Northern Flickers and many little Dark-eyed Juncos flitting about, frequenting the suet feeders and gleaning nature's offerings.
But the best surprise of all was the sweet chirpings of the Ruby-crowned Kinglet that has visited here before. (there's a clickable audio on the link as well as info) He's such a little sweet thing that I couldn't believe he had such a warbly chirp. It was his call that brought me to the front window. Yesterday, his bright red head was very visible, but my camera seemed to be at the wrong setting, so I wasn't able to get a good focus! I was slightly perturbed! This is the best I could do: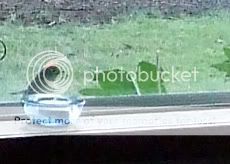 Here's a clearer photo I took in October. I was pleased to know he had survived our snowy cold spell.
Today, I heard his chirp, and there he was in the window box once again, but this time he decided to have a quick bath. No sign of his red hair when he was splashing.
He is just the cutest thing and makes my day! When I glanced at my horoscope in the local paper today it read: "A red head surprises you!" That brought a chuckle.
The woodland garden that is close by is hosting a winter wonderland of lights. It was a nice clear night for the walk there and back, and quite magical. The Gardener's cottage is filled with teddy bears ... a toy train runs through their midst.
I hope I have another surprise visit from my little red head tomorrow because I think I've figured out what was up with my camera :)